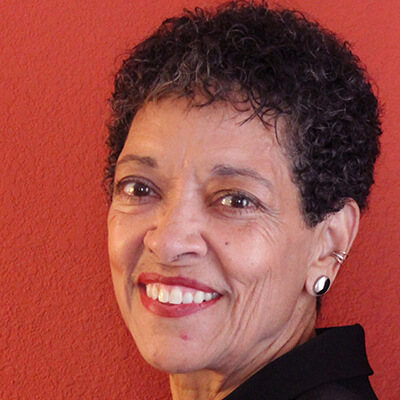 Sarita Evans
Mentor
Sarita L. Evans, a serial entrepreneur known as the "Entrepreneur Doula," has over 30 years of business training, public service and entrepreneurial experience. Sarita has spent the last 20 years serving as a Business Trainer, Mentor and Consultant where she combines her love of teaching/mentoring and entrepreneurial expertise to support small business owners to start their own businesses and become financially self-sufficient.
Sarita began her first business venture at the age of 23, when she started a Black Hair Care and Beauty Supply company – she has not stopped since. Since arriving in California in 2000, Sarita successfully built and operated Ladies Workout Express, a women's fitness center, which started in 2003, served over 1000 women, and was sold as a thriving business in 2018. She founded and designed Move Around Fitness, a conscious focused corporate wellness program which features a uniquely designed mobile fitness studio that comfortably accommodates small group fitness classes (i.e. Cycling, Yoga, Stretching, etc) and allows targeted fitness activities to be conducted on-site. Sarita is currently revisioning this business to adapt and thrive within the new COVID-19 environment. 
In addition, Sarita is presently co-founder and CFO of Spectrum CannaLabs, Inc, an analytical cannabis testing facility, which serves as a State mandated independent third party testing lab to ensure the safety and content of legally sold cannabis products in California.  
Sarita holds a B.A. in Communications and Business Administration from the University of Denver, and Juris Doctorate (JD) from the University of Denver, College of Law.  She also is a licensed California Real Estate Broker.