We are pleased to announce our new Impact Fellowship, designed to provide entrepreneurs of color with support and resources to develop businesses that balance financial sustainability with positive social, environmental, and economic impact.
We recognize the significant value that entrepreneurs of color create in our communities. Every day we work with entrepreneurs of color who are developing small businesses that advance solutions and make decisions to support the movement to an economically, environmentally, and socially just society.
At the same time, we are acutely aware that the history of discrimination and continued widening of the racial wealth gap is a barrier for entrepreneurs of color to access appropriate support and funding to move beyond the launch phase.
As an Impact Fellow, you will receive rigorous education and mentorship to accelerate your business and impact, access to resources from our business partner network, and a community of likeminded peers.
You will receive free enrollment in our year-long small business program. This program provides rigorous and hands-on education and mentorship designed to support you in planning, growing, funding and leading your small business in alignment with your social impact mission.

You will gain access to our business partnership network. Our trusted partners provide you with valuable opportunities for building your network and resources to support the growth of your business.
One of the most powerful things about Uptima is our community network. Our community is a valuable resource that connects you with a like-minded peers, business advisors, and partner organizations who will support you throughout your entrepreneurial journey.
Applicants who meet the following basic criteria will be considered for our Impact Fellowship.
Individual Criteria
Entrepreneur of color who founded, owns a majority stake, and manages the day-to-day operations of a business that meets the criteria below
Have experience in the field in which you are starting a business or operating an existing business
Current resident of Oakland, San Francisco, or Boston
At least 21 years or older as of the application deadline
Proficient in English
Able to commit 15-20 hours per week to building your business
Business Criteria
Existing business or business concept
Has the potential for meaningful positive social, environmental, and economic impact in your local community
Has a product / service in the market or has demonstrated a minimum viable product / service
Has an online presence for the business through a website and social media
Generating less than $20,000 in sales over the last year
Has not received more than $10,000 of outside funding (e.g., pitch competitions, crowdfunding, loans, equity)
We will select three Impact Fellows in each of our locations – Oakland, San Francisco, and Boston. Each local selection committee will review and select the Impact Fellows.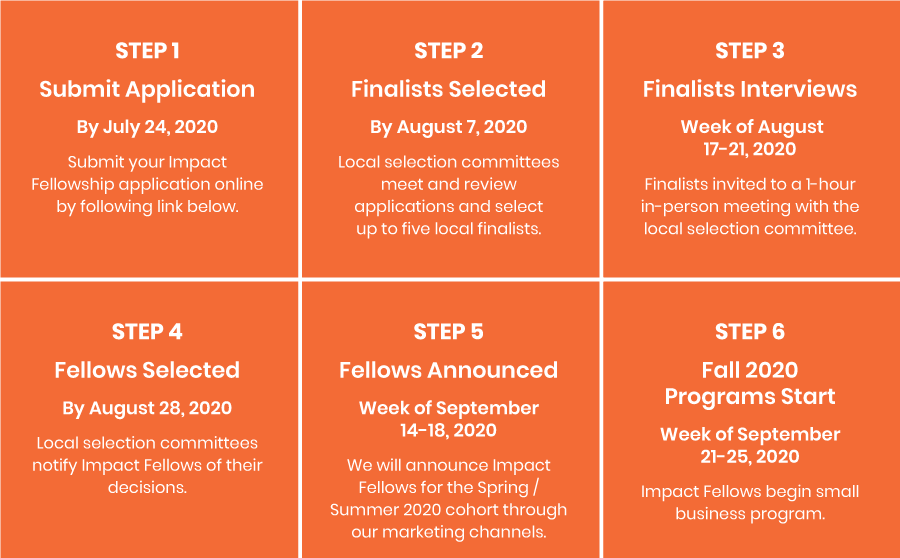 Become our next Impact Fellow in Oakland, San Francisco, or Boston.
Applications are due July 27, 2020!
Frequently Asked Questions
Do I have to be a resident of one of these communities (Oakland, San Francisco, Boston) to apply?
We are committed to supporting the local economies where we run our programs. As such, Impact Fellows must be a resident in an area where we have a location, either Oakland, San Francisco, or Boston.
How much does the Impact Fellowship cost?
There is no cost to be an Impact Fellow. Fellows receive a full scholarship to our year-long small business program.
What is the value of the Impact Fellowship?
Impact Fellows have the opportunity to gain full scholarship into our year-long small business program led by trusted business advisors – a value of over $10,000. By completing the program, each Impact Fellow will have the knowledge, tools, and network necessary to successfully grow their business and community impact.
Can you provide more detail on the average time commitment of 15-20 hours / week?
The time commitment is dedicated to building your business. A typical week for our Impact Fellows consists of participation in weekly in-person and online workshops, business development activities, mentorship sessions, peer groups, and required readings and research.
What if I am unable to complete the one-year commitment if I am chosen?
All Impact Fellows are required to sign a statement of agreement indicating their commitment to the year-long program. In the event that an Impact Fellow must withdraw from the program prematurely, a partial repayment of any coursework already completed may be required.
What kind of businesses and business concepts are you looking for?
We encourage those who are passionate about creating sustainable impact in their community to apply. Some of the entrepreneurs and small business owners we have worked with in the past include, but are not limited to, those in arts and culture, health and wellness, food and beverage, retail and eCommerce, manufacturing, and services.
What kind of positive social, environmental, and economic impact are you looking for?
We are looking for Impact Fellows who believe in advancing principles, processes, and practices that build economic and political power to shift from an extractive economy to a regenerative economy. This includes businesses and business concepts that provide for cultural expression, create good jobs, advance worker ownership and democracy, utilize sustainable production methods, shift to zero waste, among other practices.
What is a minimum viable product / service?
A minimum viable product / service is the smallest, least time and resource intensive thing you can do or build that will demonstrate the value of your business idea. We are looking for Impact Fellows who are currently testing their minimum viable product / service with positive feedback from their target customer base or are already selling their product / service.
What can Uptima's business partnership network provide to Impact Fellows?
Our business partners can provide access to additional business support, networking, discounts for business services, vending and sales opportunities, and funding for your business.
What does it mean to be a member-owner of Uptima?
Becoming a member of Uptima Business Bootcamp means you become a part of a cooperative community that invests in each other, shares in our profits, and has a say in how we are run.
Are Impact Fellows eligible to become member-owners of Uptima?
All Impact Fellows who complete the program are eligible to become member-owners of Uptima Business Bootcamp. Impact Fellows who are interested in becoming member-owners will need to go through the membership process and contribute a one-time equity stake in their businesses.
What happens after the Impact Fellowship?
As an Impact Fellow, you will receive a free lifelong membership in our Alumni Network, which provides graduates of our programs with an ongoing connection to the Uptima community. Alumni Network members have access to advanced training workshops to help you refresh your business plans and gain additional skills to grow your business and community impact, as well as discounts to our business advising services and special offers from our partner network.